We have long and celebrated history of supplying some of the most respected purveyors of high-quality meat products. If you'd like to start a relationship with us so that we can do the same for you, please give us as much detail as you can below. Then, one of our dedicated sales representatives will get back to you as soon as possible.
Please note that this section of our website is for wholesale meat supply only. Unfortunately, we can only consider enquiries from businesses. If you are a member of the general public, we'd be delighted to serve you in our state-of-the-art store in sunny Sutton, Dublin 13.

Higgins Butchers have been supplying me for years in restaurants.
Higgins are dedicated, skilled and always have top quality produce available.
We proudly display their name on our menu and will for a long time.
Grainne O Keefe – Head Chef, Clanbrassil House
Rick has been supplying us for some time now, during this time my own personal understanding of meat and butchery has improved greatly as rick shared his 2 decades of experience freely and passionately.

Organised, friendly, keen to help, excellent customer service on top of that, a wonderful product too
What more could you want in a supplier ?
A pleasure to deal with and a greater pleasure to cook with
Gaz Smith – Owner, Michaels, Mount Merrion
At Peploes we only work with people as passionate about food as us. Higgins Butchers are
one of our most trusted suppliers and will always feature on our menu at Peploes. The
quality and consistency of all of their meats is unsurpassed.
Ricks knowledge in Butchery and expertise in dry ageing prime cuts is incredible, for me the best Butcher in Dublin.
Graeme Dodrill – Head Chef, Peploes, St. Stephens Green
Contact us today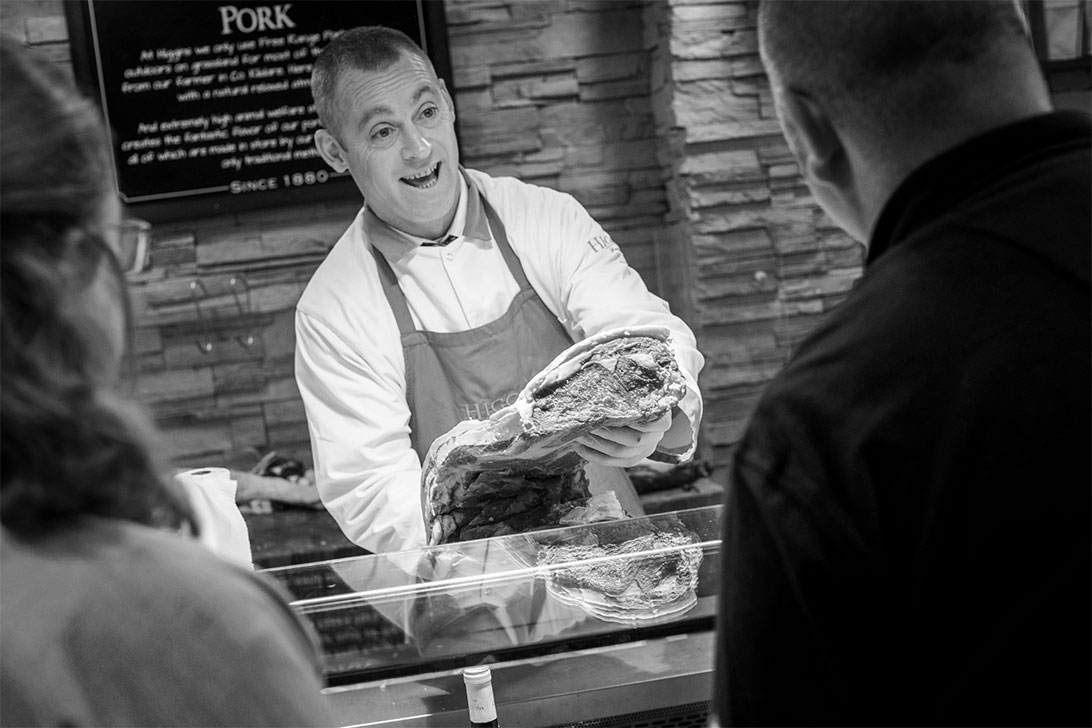 *indicates a required field